NICO GORI & PISAJAZZ SWING 10tet (NEW BAND)
This new production created by Nico Gori is attended by some young musicians of Tuscany alongside established artists from the Tyrrhenian Sea coast.
The tentet, which counts in its staff two voices, male and female, has a repertoire consisting of songs in the tradition of the historic big bands, authors such as Benny Goodman and Count Basie and original compositions by Gori, always inspired by the traditions of swing 30s and '40s.
The arrangements, the sound refined and choice of repertoire are aimed at recovering the relationship between music, performance and dance, typical of large jazz orchestras of those years.
So over to Nico Gori (clarinet, direction and arrangements), the band consists of: Vladimiro Carboni (drums), Nino "Swing" Pellegrini (doublebass), Piero Frassi (piano), Renzo Cristiano Telloli (alto sax), Leonardo Victorion (tenor sax), Alessio Bianchi (trumpet), Silvio Bernardi (trombone), Mattia Donati (guitar, vocals), Michela Lombardi (vocals), Iacopo Crudeli (speaker/singer).
www.youtube.com/watch?v=5Sonjy5VoHI"
NICO GORI "Sea Side" 4tet
Nico Gori: saxes
Piero Frassi: piano
Nino "Swing" Pellegrini: doublebass
Vladimiro Carboni: drums
The quartet met recently formed by Nico Gori, an excellent international known musician, already alongside masters such as Tom Harrell, Fred Hersch, Stefano Bollani and many others. The quartet is made also by the excellent pianist Piero Frassi, already known in the Italian jazz scene, from the solid and experienced bassist Nino "Swing" Pellegrini and the sparkling Vladimiro Carboni, drummer active in England and the United States and recently settled on the Tuscany coast. The Tuscany coast, in fact, is the land of origin of 3/4 of the group. It is also the meeting place of the four players in perfecting the sound and refine interplay. The name "Sea side" takes its cue from the venue for rehearsals, near the sea, on the coast of Livorno, a very inspiring place. The quartet's repertoire ranges from traditional jazz to original songs, with clear references to the bebop and hard bop.
The main feature of Nico Gori Sea Side 4tet, is, in addition to the quality of the music, the great feeling among the musicians who have worked together for years but in turn part of different projects.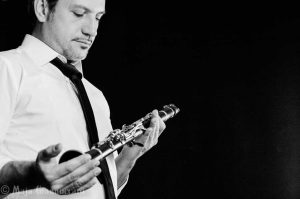 NICO GORI "Young lyons" trio
Nico Gori: Bb clarinet, alto sax
Bernardo Guerra: drums
Matteo Anelli: doublebass
 The sound of the trio is typical sound of the known "pianoless trio" of the history of jazz. It is the sound of a band without any harmonic instrument such as the piano or guitar (Rollins, Konitz & Marsh, Henderson).
Through a journey into the world of standards, the group creates a flow of lines and rhythms dominated by the leader Nico Gori, vigorously supported with fresh variety Bernardo Guerra on drums and Matteo Anelli on bass.
NICO GORI "S. John" trio
"Celebrating the music of John Coltrane"
Nico Gori: Bb clarinet, bass clarinet, alto sax
Franco Santarnecchi: keyboards
Piero Borri: drums
"Celebrating the music of John Coltrane"
This trio formed by musicians that grew up under the influence of the great American sax player John Coltrane, is meant to be a tribute to this legendary figure of jazz.
The trio traces the stages of Coltrane's musical profile. A profile that goes from be-bop, in the times when Coltrane used to play in Miles Davis quintet, to the experiences of his legendary quartet that, already in the sixties, explored the various forms of integration between musical traditions from India and Africa with Western culture and music.
The music that describes the well-known sax-player's profile, is an impressionist music, characterized by an indomitable energy entrusted to first class musicians, who join together as if celebrating a rite where music is almost a religion and John Coltrane the venerable master.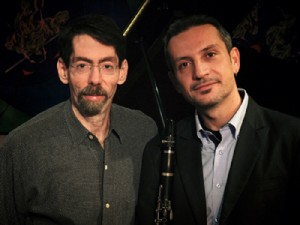 NICO GORI & FRED HERSCH
"DA VINCI" – Beejazz, Naxos, Song X
Nico Gori: Bb clarinet
Fred Hersch: piano
Il duo clarinetto e pianoforte ha origini lontane nel tempo e tanti sono gli autori che vi si sono cimentati, scrivendo pagine memorabili che ancora oggi vengono studiate ed eseguite. Il duo è per eccellenza il dialogo più intimo tra due musicisti, il momento in cui ognuno deve dare il massimo, scavare nel profondo per far scaturire la musica dagli strumenti, dalle partiture, dalle improvvisazioni.
La collaborazione tra Fred Hersch e Nico Gori si pone l'obiettivo di scavalcare i confini dettati dai generi musicali spaziando da atmosfere echeggianti la classicità ai suoni della contemporaneità, dalla canzone alla totale improvvisazione, senza alcun pregiudizio o clichè.
Il sodalizio musicale ed umano tra Hersch e Gori nasce dalla voglia reciproca di fare musica insieme; musica nel senso più alto e nobile; musica che si snoda ovunque ella desideri andare, accompagnata dal fine pianismo di Fred Hersch e dal suono morbido dei legni di Nico Gori.
Il duo ha già al suo attivo concerti in Europa e in America dove ha riscosso notevole successo di pubblico e critica. Per citarne alcuni: Kitano's e The Falcon a New York, Porgy and Bess a Vienna, Sunset/Sunside a Parigi, Caramoor Jazz Festival (N.Y.), Jazzhuse Montmartre a Copenhagen. Il disco di Nico Gori e Fred Hersch, dal titolo "Da Vinci" , è uscito il 29 Marzo 2012 per l'etichetta francese BEEJAZZ in Europa, NAXOS negli Stati Uniti e Canada, SONG X in Giappone.